CAYMAN ISLANDS. You might know the Cayman Islands from a famous movie line, like The Firm – starring Gene Hackman and Tom Cruise. Yes, this is probably THE off-shore banking haven outside the USA. Maybe the fact that they have more registered businesses than people (population is around 60k) has something to do with so many banks – one on nearly every street corner – here. In fact, it's all linked – the government's primary source of income is indirect taxation: there is no income tax, capital gains tax or corporation tax. Henceforth, based on income, Caymanians enjoy the highest standard of living in the Caribbean and every second person you meet is a banker or finance expert of some sort.

Pic of Grand Cayman from Royalcaribbean.com
Most people find themselves in George Town – on the biggest island – when they visit Grand Cayman. The other ones are called Cayman Brac and Little Cayman, but very few people live there. Maybe you dream of living on a tropical island for a while?
So what is it like to live in Grand Cayman?, you ask. Some locals complain that there's little to do, but we beg to differ. First off, this island was frequented by many pirates, including the famous Captain Blackbeard. If you don't believe us, you can go scuba diving in the swimming pool-clear water of the ocean and visit many ship wrecks from this bygone era, amongst others. You can see what the ships looked like in those days and maybe even endeavor to find treasure down there, although that'll be your own little fantasy trip, nothing we suggested… While you're at it, you may see amazing sea turtles and stingrays in these deeps. In fact, there are some specific locations on the island where you can swim with stingrays.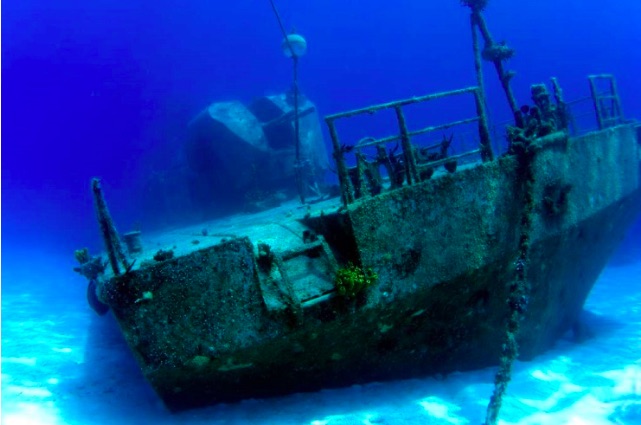 Shipwreck in Grand Cayman waters from Caribbean360.com
This is not all. The beach is 7 miles long in Grand Cayman – or so the name of the beach says, but we have heard its longer! White, sandy and undulating into clear azure waters, which we already swooned enough about above. Whatever you want to do on this beach can be done – watersports, swimming, splish-splashing, drifting in the water with a cocktail in your hand, rolling in the sand like a kid, sunbathing with your toes in the water – you get it. Considering the big island is 22 miles long and 4 to 8 miles wide, all at pretty much sea level, makes us think you can run around the island and that would mean you completed (nearly) a marathon. If you're into that kind of thing or about to complain that there's nothing to do on the island, that is.
Next, you can go to Hell. No, not being rude. There really is a place called Hell. It's a sight to see – black volcanic, sharp rocks are the only landscape here. Quite different to the rest of the environment. What's more, there is a little post office right in Hell where you can buy a "postcard from Hell" to send to loved ones to alarm them unnecessarily and cause your grandfather to preach about the evils of travel to foreign countries… But that's thát story.
Of course, there are great restaurants and shopping on the island, even Jimmy Buffet's Margaritaville franchise boasts a prominent spot if you want to get your or any Parrot Head doused in some rum. 
Not only does this place have a Hell, it also has crocodiles. Ever heard of crocodiles found naturally in the Caribbean? Well, hear again. That is where the island gets its name from – Caimans are a specific kind from here. Wait, they have indigenous reptiles – curly tailed lizard iguanas – but also crocs and sea turtles on and around the island!? Cowabunga!
As is known, hurricane season comes every year to the Caribbean. Last year's monster season didn't affect the Caymans much – for a change! Unfortunately these islands have the highest record of being hit by hurricanes of all Caribbean islands. In 2004, hurricane Ivan nearly tore the main island into two with severe flooding. Amazingly the locals rebuilt it within about two years. What a nation!
Talk about nation, did you know that Jamaica and Grand Cayman were once considered one? Cayman and Jamaica were governed as a single British colony until 1962, when the Cayman islands became designated a British overseas territory, one of 14 territories under the sovereignty of the UK but not part of the UK, while Jamaica became independent.
As you can gather, this is a Hell of a place. It's only 400 miles south of Miami, or apparently known as "South Miami" by expats, so you can swim there, ha! Pack your bags and get there before someone else occupies your perfect spot. 







BARBADOS. We have been to many islands, and not only in the Caribbean. So far Barbados, St Barth and Virgin Gorda seem to be the main celebrity playgrounds here. Barbados is just as beautiful as any other island in the Caribbean, so what makes it so special?
There are probably a myriad of reasons why it's such a favorite with A-listers, but it could boil down to just sun, sand, sea specifically combined with direct flights from major cities like London and New York and high-end hotels aplenty on the island. That is, mostly on the west side of the island where it is quite "over-developed", some would say.
Sandy Lane is a famous hotel, often hosting clients that are much more well-known than its name. Though quite pricey, if you want to see the likes of Michael Douglas and Catherine Zeta-Jones or Hugh Grant and Simon Cowell (of American Idol) while having your sundowners, you'll get your money's worth. Bajan born music celebs often seen here include Rihanna and Shontelle.
Once, we saw Rihanna walk down the street in Holetown, Barbados, in a bikini – like only Rihanna can! In fact, you can take a stroll on a street named after her in Barbados – called Rihanna Drive. It is actually the street where she stayed on and her childhood house can be visited. You can't miss it – brightly painted to commemorate a big star's humble beginnings.
Unfortunately, if you want to view the house of Tom Selleck, Bill Gates, Cliff Richard or Elton John, you can only see the outside walls of their estates from the road.
The southern part hosts most tourist resorts, shops and restaurants, making it a very welcoming social scene. Its beautifully scenic and entertaining parts make it a must to explore these environs. Oistins, in particular, is an active fishing town, a hub of activity on weekend nights. On Friday nights it's Fish Fry at Oistins Bay Gardens where the food is the main draw with excellent fish, (tuna, swordfish, marlin, mahi-mahi, flying fish), lobster, chicken etc. served in an informal setting. Your dish is cooked on the spot in front of you, and you can choose between grilled or fried depending on the vendor. Nice!
Should you be more attracted to the laid-back, tranquil section of an island, the eastern part is for you. People who love surfing and kite boarding frequent especially the Silver Sands beach area or Long Beach, minutes' walk from each other. This is the Atlantic Ocean side, so the sea is a tad more wild, which makes for an interesting wave riding and wave jumping experience if you're into kite surfing. Silver Sands in particular is 100% set for kiting with accommodations right on the beach. A kiter's haven! Any given day you'll see about 25 kiters doing their thing. Actually, it's a spectacular sight having those colorful kites parked on the beach or speeding off towards the waves. You'll see professional athletes among students who are being taught. Apparently it's a highly disciplined sport and those who partake are very respectful – so we've heard.
For kitesurfing lessons in Barbados: www.endlesskiteboarding.com (in Silver Sands), contact Roland Boyce.
For day trippers from the cruise ship dock in Bridgetown, a taxi could cost you $75 for about 5 people there and back – not bad. But if you're alone, get yourself to the taxi ranks, downtown, and ask for the number 11 Route Taxi. It's a 10 minute walk from downtown to the route taxi ranks, but it's ony US$1 (yes, one US dollar) for a forty minute ride to Silver Sands. If you want to meet the real locals and share the taxi with about 10 other Bajans heading in the direction of Silver Sands – do it – it's a thrill ride.